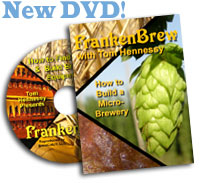 IT'S ALIVE! The original classic video from 1995, FrankenBrew, has been brought back to life on DVD. Brewer Tom Hennessy teaches you how to build a commercial brewery on a tight budget. He shows you the affordable alternatives to expensive turn-key brewing systems, and demonstrates how to get your commercial brewery up and running with minimal investment. Learn how to find and customize used stainless steel kettles, mash tuns, fermentors, and more. See how commercial scale brewing equipment works and take his knowledge to build your own brewery. Read more.

---
Shop at BeerBooks.com and get a free subscription to DRAFT Magazine!
---

A Spirited History of Milwaukee Brews & Booze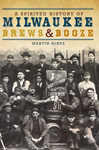 Crack open this comprehensive history of Brew City booze. Explore Milwaukee's "rum holes," discover how the city weathered Prohibition and which Jones Island sported the longest mustache. Copy down the best recipe involving Sprecher Special Amber, Rainbow Trout and sauerkraut. Sample the rich heritage of Pabst, Schlitz, Gettelman and Miller--the folk who turned Milwaukee into the Beer Capital of the World. And save some room for the more recent contributions of distillers and craft brewers who continue to make the city an exciting place for the thoughtful drinker. Our Price: $15.80

(You save $4.19!)

Read more / Order.
---
Dethroning the King: The Hostile Takeover of Anheuser-Busch, an American Icon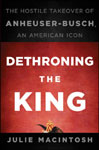 How did InBev, a Belgian company controlled by Brazilians, take over one of America's most beloved brands after barely a whimper of a fight? Timing, and some unexpected help from powerful members of the Busch dynasty, the very family that had run the company for more than a century. In Dethroning the King, the award-winning financial journalist who led coverage of the takeover for the Financial Times details how the drama that unfolded at Anheuser-Busch in 2008 went largely unreported as the world tumbled into a global economic crisis second only to the Great Depression. Today, as the dust settles, questions are being asked about how the "King of Beers" was so easily captured by a foreign corporation, and whether the company's fall mirrors America's dwindling financial and political dominance. Watch a video about this book. Our Price: $17.39

(You save $10.56!)

Read more / Order.
---
IPA: Brewing Techniques, Recipes and the Evolution of India Pale Ale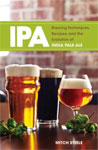 Explore the evolution of one of craft beer's most popular styles, India pale ale. Equipped with brewing tips from some of the country's best brewers, IPA covers techniques from water treatment to hopping procedures. Included are 48 recipes ranging from historical brews to recipes for the most popular contemporary IPAs made by craft brewers such as Pizza Port, Dogfish Head, Stone, Firestone Walker, Russian River, and Deschutes. Our Price: $15.63

(You save $9.32!)

Read more / Order.
---
Hoosier Beer: Tapping into Indiana Brewing History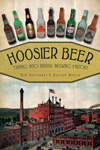 Crack open a bottle of Champagne Velvet and dive into the first complete history of brewing in Indiana, where the beer history is as old as the state itself. More than three hundred breweries have churned out the good stuff for thirsty Hoosiers, and this city-by-city guide gives readers a sample of every spot, allowing time to savor the flavor while sharing the hidden aspects, like the brave and hearty brewers who assisted the Underground Railroad and survived Prohibition. The unmistakable Hoosier personality and spirit shine in the classic labels and advertisements, many of which are displayed here in vibrant color. Our Price: $16.88

(You save $5.11!)

Read more / Order.
---
Chicago by the Pint: A Craft Beer History of the Windy City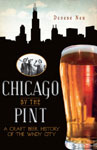 Chicago's craft beer scene may be new, but it enthusiastically taps the rich history of its home city. Order yourself a pint of Piece's Golden Arm Ale and meet its inspiration -- Nelson Algren, poet of the Chicago slums and author of The Man with a Golden Arm. Slip some rough-and-tumble stories into your drink at Mickey Finn's or raise a glass of Honkers to Goose Island for bringing brewing back to the city. Through the pages of this amiable bar stool reader, experience some of Chicago's most fascinating stories, from the Great Fire to Wrigley Field. Our Price: $14.79

(You save $5.20!)

Read more / Order.

Origin & History of Beer & Brewing


In 1911, John P. Arnold set out to fill a void that existed in brewing literature. The result was Origin and History of Beer and Brewing — a global study of beer throughout history that has remained a cornerstone work for nearly a century. Read more...
Redeeming a Gift Certificate? Go here.