Magazine Subscription

Draft Magazine

• One-Year Subscription
• 6 Issues
• U.S. Addresses Only

Price: $19.99

Quantity:

You can always remove it later.
Read How To Buy.
More Information

» Sample Article: Brewery spotlight: Epic Brewing
Celebrating the beer lover's lifestyle, Draft Magazine explores everything from the little-known pub down the street to selective breweries here and abroad and all other imbiber's interests - food, travel, sports, technology, entertainment, and leisure.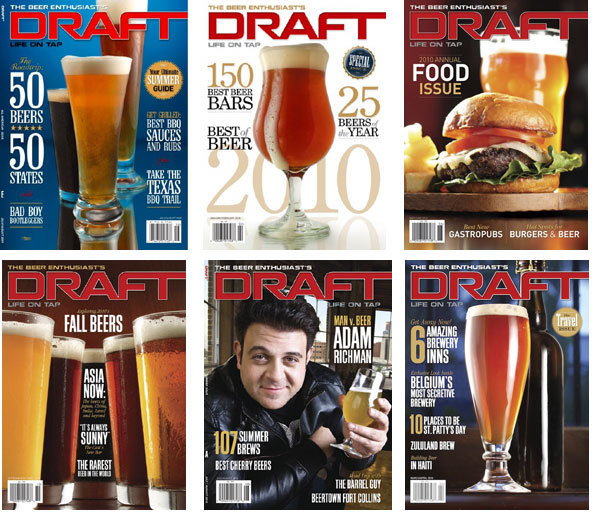 Sample Issues —
---

May/June 2007

ON TAP:
What's In A Name: Smuttynose Brewing
License to Grill: Kayem Foods and Harpoon Brewing
Top 10: Most Innovative Beers
Pub of the Month: Ginger Man, Houston
The Label Game: From Two Brothers to Three Floyds
For the Collection: Brasserie Du Bocq, Blanche Des Moines
Brewery Spotlight: Full Sail Brewing Company
ON TAP LIFE:
Micro-Distilled Spirits
Up In Smoke
Bike in Black: Trek 8500
Barred for Life: Blomus barware
DRAFT CLASS:
Charlie Papazian's Godisgood
TREK:
Finding Belgium
Top Ten Places to Drink a Beer
Beer Town USA: Seattle
PLAY:
The World's Coolest Machines
The Derby: Decadent and Depraved
TASTE:
Draft Pick - Collaboration Not Litigation Ale
Test Your Tongue
Fruit & Beer
A La Beer: Breakfast
Let Them Drink Beer ...And Lost Weight Doing It
FEATURES:
Girl Behaving Badly: Meet Chelsea Handler
10 Innovators in Beer
If You Build It, They Will Come
Drink To, And For, Your Health
BREW REVIEWS:
From the Brewdeck: Brewing Up Change
Beers for Spring


---

March/April 2007

ON TAP:
What's In A Name: Ska Brewing
Game Face
Beer Without Borders
Pub of the Month: The Capital Ale House
10 Great Beach Beers
For the Collection: Goose Island Imperial Brown Goose
Meet the Brewer: Matt Long, Big Sky Brewing
DRAFT CLASS:
Brewing At Home 101
Charlie Papazian's A Sense of Pleasure
TREK:
Top Ten Places to Drink a Beer
Beer Town USA: San Diego
Amelia Island
PLAY:
The One That Got Away - Adventures in Fishing
Foos Fighters - Tournament Foosball
TASTE:
Draft Pick - Apis Poltorak Jadwiga Mead
Test Your Tongue
Seafood & Beer
Drinking Buddies: Tequila
A La Beer: Appetizers
Italia Ho!
FEATURES:
The Many Faces of Leslie Nielsen
The Irish Empire
In Pursuit of Leisure
Drink To, And For, Your Health
BREW REVIEWS:
Beers for Spring


---

January/February 2007

ON TAP:
What's in a Name: Rogue Ales
Apres Ski Rundown
Pub of the Month: Brick Store, Atlanta
DRAFT CLASS: Charlie Papazian on Draft Beer
TREK:
Top Ten Places to Drink a Beer this Issue
Beer Town: New York
Vietnam
PLAY:
FBR Open
Go Fly a Kite
TASTE:
DRAFT Pick: Kwak
Palate Points
Test Your Tongue
Teammates: Beer and Pizza
Chef's Challenge
REVIEWS:
Winter Seasonals
Stouts
American Pale Ales
Barleywines
Schwarzbiers
FEATURES:
Meet ESPN's Mike & Mike
Take This Job and Love it
State of the Brew-nion: 10 Breweries to watch in 2007
Adventure Guide


---

November/December 2006

ON TAP:
What's in a name: Left Hand Brewing
Pub of the Month: Monk's Cafe, Philadelphia, PA
First Class Flying
DRAFT CLASS: Charlie Papazian's Short History of American Beer, Part II
TREK:
Top Ten Places to Drink a Beer this Issue
Beer Town: Phoenix
Designated Driver
PLAY: The Human Race
TASTE:
Holiday Treats and Beer
Ford's Focus
REVIEWS:
Belgian Strong Ales
Christmas Beers
English Pale Ales
Porters
FEATURES:
Brewing up with Dierks Bentley
Do-Good Breweries
Amaury Nolasco's Beer Break
Holiday Wish List
I Saw Mommy Serving Santa Claus


---

September/October 2006

On Tap What's in a Name: Flying Dog Brewery
Bar of the Month: Sheffield's
Celebrity Q&A: Beerfest
Draft Class: Charlie Papazian's Short History of American Beer, Part One
Taste: Beer and Cheese
Draft Pick: Brooklyn Brewery's Post Road Pumpkin Ale
FEATURES
Not So Desperate: James Denton
The Ultimate Beer Bash: Oktoberfest
As the Sun Rises: Hangovers
Beer Geeks
Making the Approach
Reviews
IPA's
Stouts
Scotch Ales
Brown Ales
Oktoberfests
Trek
Beer Town: San Francisco
World Beer Tour: Czech out Prague
Play
Chess Boxing: Right Hook? Meet my Rook
Top Ten Tailgates