Books By Stephen Beaumont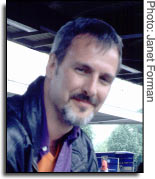 Described by the Oakland Tribune as a "widely traveled beer journalist with impeccable taste," author Stephen Beaumont has been documenting the world of beer, spirits, food and travel for over a decade. He currently has five books and one original audio book to his credit, including last year's critically acclaimed "Premium Beer Drinker's Guide" (a "thorough, smart and accurate" read, says Saveur magazine), and the all-new "Great Canadian Beer Guide, 2nd edition."
A leading voice in beer writing, Beaumont's work has appeared in such diverse publications as the International Herald Tribune, Esquire, Wine Enthusiast and Hemispheres, the in-flight magazine of United Airlines. He currently pens columns for the Malt Advocate, Wine X, The Celebrator, and maintains his own monthly on-line magazine, Stephen Beaumont's World of Beer at www.worldofbeer.com.
Beaumont is also an outspoken advocate of staff training in beer for bars and restaurants. His beer education seminars have been lauded by clients such as Starwood Hotels and Resorts, Prime Restaurants of Canada, the Imago Restaurant Group and Vintage Inns. Beaumont also travels North America presenting beer tastings and beer dinners. Recent appearances have included the Sheraton Four Points LAX in Los Angeles, the "Dixie Cup" Homebrewers Conference in Houston, the Esplanade Bier Markt in Toronto and Monk's Cafe in Philadelphia.
A Taste For Beer
Stephen Beaumont / Soft Cover / 181 Pages / 1995
Our Price: $8.24 (You save 45%)
The Great Canadian Beer Guide, 2nd Edition
Stephen Beaumont / Soft Cover / 272 Pages / 2001
Our Price: $19.95
Premium Beer Drinker's Guide: The World's Strongest, Boldest & Most Unusual Beers
Stephen Beaumont / Soft Cover / 224 Pages / 2000
Our Price: $17.45 (You save 30%)
Stephen Beaumont's Brewpub Cookbook
Stephen Beaumont / Soft Cover / 200 Pages / 1998
Our Price: $15.15 (You save 20%)