Magazine Subscription

All About Beer Magazine

• One-Year Subscription
• Six Issues
• U.S. Addresses Only

Price: $19.99

Quantity:

You can always remove it later.
Read How To Buy.
More Information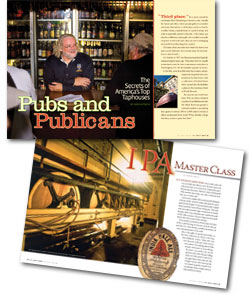 Respected worldwide for in-depth reviews, expert panel tastings, beer travel, and feature articles, All About Beer Magazine has been all about beer for over 25 years! Each issue is packed with entertaining features, the cutting edge on beer news as well as top-notch columnists. You'll find information about travel, collectibles, homebrewing, beer history, beer cultures in other countries, food and beer . . . plus book reviews, the Beer Lovers' Calendar and much more. We offer ratings of more than 100 beers in every issue, with our panel of experts getting up close and personal with an Elite Eight. You'll find all this and still more in the next issue of All About Beer Magazine.
Each issue of All About Beer Magazine contains:
Expert reviews of new, exciting beers — from the most trusted names and palates in the business.
Fascinating feature articles that explore today's hottest beer trends.
The latest in beer and brewery news.
Ways to maximize your enjoyment of beer — from food selection tips to beer festival schedules.