More Information...
Publisher: University of Wisconsin-La Crosse Foundation, 2004.
Hard Cover, 266 pages, 8.75 x 10.25.
Item #1357
Authors Paul Koeller and David DeLano have put together a wonderful example of how a brewery's history should be told. Showcased in a large, gorgeously-designed, hard cover book, the unique story of Wisconsin's G. Heileman Brewing Company is recounted in grand detail. The brewery began not much differently than the hundreds of other 19th century breweries founded in Wisconsin by German immigrants. More than a hundred years later, the company made an astonishing bid for national prominence, climbing to the rank of 4th largest American brewer, only to make an equally swift descent into obscurity less than two decades after its meteoric rise.
Koeller and DeLano, both of whom had personal connections with Heileman, unfold the whole story in 32 chapters, illustrated with more than 100 color and black & white photos.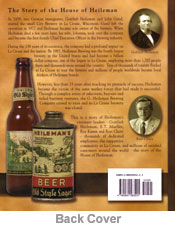 From the book's back cover --
In 1858, two German immigrants, Gottlieb Heileman and John Gund, started the small City Brewery in La Crosse, Wisconsin. Gund left the operation in 1872 and Heileman became sole owner of the brewery. When Heileman died a few years later, his wife, Johanna, took over the company and became the first female Chief Executive Officer in the brewing industry.
During the 138 years of its existence, the company had a profound impact on La Crosse and the nation. By 1983, Heileman Brewing was the fourth largest brewery in the United States and had become a billion dollar company, one of the largest in La Crosse, employing more than 1,700 people there and thousands more around the country. Tens of thousands of tourists flocked to La Crosse to tour the brewery and millions of people worldwide became loyal drinkers of Heileman brands.
However, less than 15 years after reaching its pinnacle of success, Heileman became the victim of the same market forces that had made it successful. Through a complex series of takeovers, buyouts and failed business ventures, the G. Heileman Brewing Company ceased to exist and its La Crosse brewery was closed.
This is a story of Heileman's visionary leaders -- Gottlieb Heileman, E.T. Mueller, Roy Kumm and Russ Cleary -- thousands of dedicated employees, the supportive community in La Crosse, and millions of satisfied customers around the world -- the story of the House of Heileman.
About the Authors --
Paul Koeller and David DeLano have diverse backgrounds and have independently researched Heileman's history. Koeller was born in La Crosse and is the son of a Heileman brewery worker of more than 40 years. DeLano was employed by Heileman for 23 years and was the company's corporate credit manager as well as resident historian. In 2002 the two joined forces, conducted scores of interviews and fi nalized their plans for this book. Their combined research and knowledge has resulted in a comprehensive work that readers will find both informative and interesting.